The Learning Centre:
Good news: 'bad news' doesn't mean you should bail from the market.
In fact, pulling out of the market during times of volatility could cost you greatly in potential returns.
As an educator, there's a certain comfort that comes from knowing what the future will bring when it comes to your finances. For example, you have a good pension in place, so you know that down the road you will have a set income in retirement that you will be able to count on.
However, when you're invested in a market that has seen quite a bit of volatility over the years, the only thing that is certain is the uncertainty of what tomorrow will bring—and that can be scary.
Market volatility is often associated with the 'bad news' headlines of the day—and those headlines can create a cloud of uncertainty for investors.
Now 'uncertainty' and 'investing' are not exactly the best of classmates, especially when you throw volatility into the mix. While it can be tempting to panic and 'get out' when market conditions take a turn for the worse, reacting emotionally may cause you to lose sight of your long-term savings and investment strategy—and that could cost you greatly in potential returns down the road.
Educators Certified Financial Planner professional Marian Ollila consistently reminds clients to stick to their long-term objectives when stuff in the market hits the fan. It's advice that pays off.
"Time in the market is better than timing the market", says Marian. "Even with significant declines, an investor who stayed in the market over the past number of years has still had positive returns."
And Marian is not just being positive with that statement—take a look of the following example: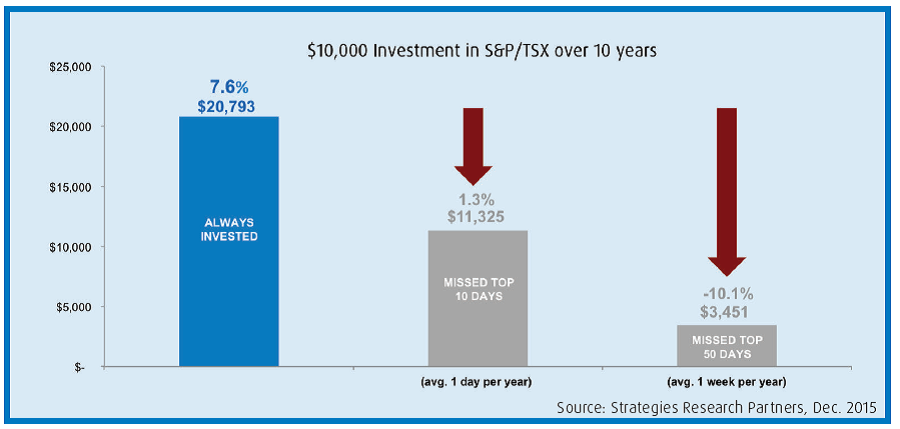 Scenario 1:
You remained fully invested in S&P/TSX over 10 years, in which case your $10,000 would have grown to $20,763, or 7.6% compound annualized return.
Scenario 2:
During periods of volatility/uncertainty, pulled out of the market for the top 10 days over the 10-year period, working out to an average of 1 day per year. Instead of receiving 7.6% return, your return would have diminished to 1.3%.
Scenario 3:
During periods of volatility/uncertainty, you pulled out of the market for the top 50 days over the 10-year period, working out to an average of 1 week per year. Instead of receiving 7.6% return, your return would have diminished to -10.3%, a material difference of nearly 18%!
So the lesson here is when the going gets tough—the tough doesn't get going, but instead

stays

invested in the market.
When in doubt, you only have to look to past performance to be reassured about moving forward. Just take a look below—the S&P/TSX Composite Index gained approximately 1316% (or 9% per year) over the past three decades (that's 22 of the last 30 years showing positive returns):
| Year | S&P/TSX* | World Headlines |
| --- | --- | --- |
| 1985 | 25.1% | Rome and Vienna Airport Attacks |
| 1987 | 5.9% | "Black Monday"; Record Setting Market Decline |
| 1990 | -14.8% | Iraq Invades Kuwait |
| 1991 | 12.0% | Collapse of the USSR; US Recession |
| 1992 | -1.4% | Standard & Poor's Downgrades Canada's Credit |
| 1993 | 32.6% | World Trade Center Bombed in New York City |
| 1994 | -0.2% | Bond Market Crash |
| 1997 | 15.0% | Asian Market Crash |
| 1998 | -1.6% | Russian Financial Crisis |
| 1999 | 31.7% | Y2K Chaos Predictions |
| 2000 | 7.4% | Tech Bubble Burst |
| 2001 | -12.6% | World Trade Center Attacks in New York City |
| 2002 | -12.4% | WorldCom Bankruptcy; Largest in US history |
| 2003 | 26.7% | President Bush Declares War on Iraq |
| 2006 | 17.3% | New Fed Chair; Adam Greenspan Replaced by Ben Bernanke |
| 2007 | 9.8% | Panic of 2007; Global Banks Start Reporting Billions in Losses |
| 2008 | -33.0% | Subprime Mortgage Crisis; Bearn Stearns, Lehman Bros Collapse |
| 2009 | 35.1% | Chrysler and General Motors File for Bankruptcy |
| 2010 | 17.6% | Greece 'Contagion Fears'; Flash Crash |
| 2011 | -8.7% | US Debt Downgrade; Eurozone Debt Crisis; Japan Earthquake/Tsunami |
| 2012 | 7.2% | Commodities Boom Ends; Cyprus Banking Crisis |
| 2014 | 10.6% | Crude Awakening; Oil Price Collapses |
*The S&P/TSX Composite Index percentage total return per calendar year.
While the market will always be unpredictable, one thing is for certain—there will be future events that will cause significant volatility.
So don't stress and don't bail. Instead, stay the course and remain focused on your overall financial goals and you'll more than likely reap the rewards in the long-term for your patience and persistence.
Read our latest news and updates here.
Have you reviewed your investment portfolio lately? Have one of our financial specialists contact you for an educator-specific portfolio review.
Sources:
http://ca.spindices.com/indices/equity/sp-tsx-composite-index
http://www.you-first.com/wp-content/uploads/2016/01/Excuses_Not_to_Invest.pdf
BMO Global Asset Management
The statements contained herein are based on material believed to be reliable. Where such statements are based in whole or in part on information provided by third parties, they are not guaranteed to be accurate or complete. The article does not provide individual financial, legal, tax or investment advice and is for information purposes only. Particular investment or trading strategies should be evaluated relative to each individual's objectives and risk tolerance. Index returns are shown for comparative purposes only. Indexes are unmanaged and their returns do not include any sales charges or fees, as such costs would lower performance. Educators Financial Group will not be held responsible or liable for any losses, costs, damages or expenses incurred by reason of reliance as a result of the aforementioned information.