The Learning Centre:
An education in summer spending (and how to get savings back on track)
The sun has set on yet another summer season… and it was quite a hot one—especially for spending.
According to a study conducted by the Chartered Professional Accountants of Canada, 56% of Canadians saw an increase in summer spending over last year.
The top 3 expenditures responsible for the uptick this year are:
• Transportation/fuel (62%)
• Food (50%)
• Home energy (37%)
Whether you spent the summer at home, the cottage, or travelling around, you most likely paid for your own summer expenditures with savings or with credit (or a mixture of both).
While statistics from the CPA summer spending study show that 40% of Canadians were able to save for their summer goals, 20% had to pay for their summer plans using credit.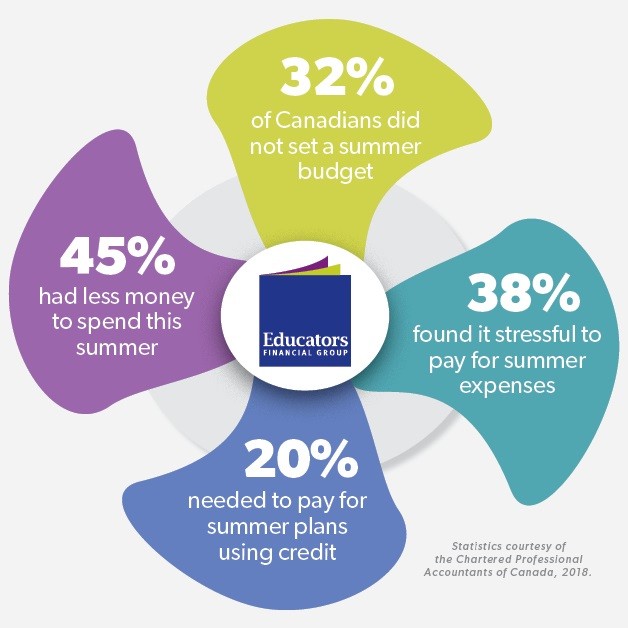 With the summer behind you and a busy school year ahead, here are a few ways to keep your spending in check and your savings goals on track.
1. Mind your credit card purchases.
While there's nothing wrong with using credit cards as a means to make purchases (particularly if you can rack up points), just be sure to always pay off the balance in full or at the very least make more than the minimum monthly payment. Interest charges add up and you don't want those credit card purchases to end up costing you more than you bargained (or budgeted) for.
Have a credit card that offers rewards? Ensure you're using one that works with your spending habits. For example, if you do a lot of driving, consider using a card that earns you money towards free gas. If you have a passion for travelling, then you'll want a card that earns you points you can use towards flights and/or hotels.
Feeling the heat of your summer credit card purchases? Here are 3 tips for taking your credit card debt to zero.
2. Look ahead, then budget and plan accordingly.
The school year may have only just started, but now is the time to start looking ahead to the things you want to do during March break or even next summer and beyond. The more time you give yourself to save and prepare, the less you'll have to rely on credit—putting you in a position to propel your finances forward.
This is where having a budget and a financial plan becomes especially important.
For example, let's say you want to save $5,000 to put towards your plans next summer. That's nine months away, so you'll have to save about $555 a month between now and then to reach that goal—which works out to roughly $18 a day. Putting together a budget will help you find the cash flow to fund that $18 a day, while a financial plan will provide you with the strategy to reach your goal within the set time frame.
Other goals you may want to consider saving for:
• Emergency fund
• Down payment or renovations on a home
• 4 over 5 / 'X over Y' leave
• Adding to your pension income in retirement
Are you returning from a leave? Don't forget to factor in 'pension buyback' into your budget.
Generally, it's almost always a good idea to buy back all eligible pension credit. The impact can vary depending on the length of the absence you are buying back. Overall, buying back credit helps you maximize the value of your pension and ensures that you stay on track to reach your 85 factor at the earliest possible date.
3. Free up cash to put towards your savings goals by consolidating high-interest debt.
Regardless of where you are on the pay grid, high-interest credit cards and loans have the potential to eat up a big chunk of your monthly income, if you are holding a balance. Consolidating your high-interest debt (into a line of credit at a lower rate, for example) can reduce monthly payments and free up cash you can then use to put towards your savings goals.
Looking to get your savings back on track? Educators Financial Group is here to help you achieve your goals and so much more.
With over 40 years of working with education members and their specific financial concerns, we can empower you to make smarter financial decisions – like how to spend less and save more or put together a customized financial plan to work towards your dreams. Looking for a mortgage, loan, or line of credit? We've got your borrowing needs covered as well!
Click here to have one of our financial specialists put your financial plan into motion.
Brokerage license 12185
The information provided is general in nature and is provided with the understanding that it may not be relied upon as, nor considered to be, the rendering of tax, legal, accounting or professional advice. Please ensure to consult your accountant and/or legal advisor for specific advice related to your circumstances. Educators Financial Group will not be held responsible or liable for any losses, costs, damages or expenses incurred by reason of reliance as a result of the aforementioned information. The information presented was obtained from sources that are believed to be reliable. However, Educators Financial Group cannot guarantee their completeness or accuracy.