The Learning Centre:
The 2017 Federal budget may have small changes, but they will be felt.
How will Canada's new financial curriculum affect Ontario educators?
The Liberal government brought down the federal budget on Wednesday, March 22, 2017. Several parts of the budget will affect education members, but let's take a look at the big picture first.
Budget 2017 is being described as the federal government's effort to build a strong middle class through innovation, skills, partnership and fairness. It aims to provide workforce training as well as a focus on mental health, home care and indigenous health care.  There are no plans to balance the books in the very near future, although the aim is to reduce the deficit from a projected $23-billion in 2016-17 to $18.8-billion by 2021-22.
We've looked through the budget to find some of the changes we thought would most affect the members of the education community.
Here are four changes of greatest interest to education members:
1. Investing in areas where gender imbalances persist.
Since a high proportion of education members in Ontario are female, it's of interest that the Liberals are saying this is the first 'gender-sensitive' budget. For the first time in Canadian history, the budget document includes a section on how its measures impact men and women in different ways, and a commitment to do a deeper gender-based analysis for the 2018 budget.
To reduce inequity, the government is proposing investing in areas where gender imbalances persist, including:
Enhancements to student financial assistance and training
$7-billion over 11 years for early learning and child care
$11.2-billion over 11 years for a national housing strategy
More flexible benefits for family caregivers
More supports for Indigenous women
$101-billion over 5 years to support a national strategy to address gender-based violence
Gender wage gap: Canada vs. the OECD.
Difference between male and female median wages for full-time employees, unadjusted.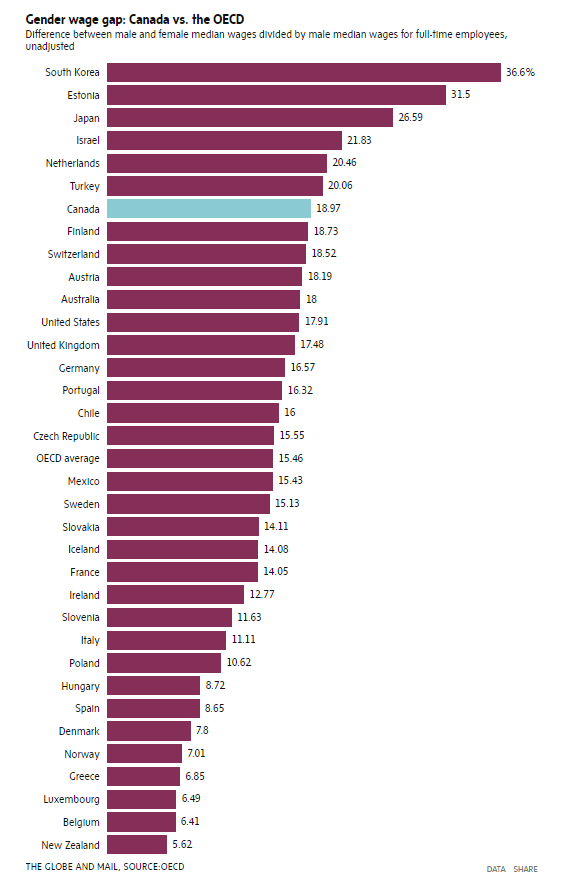 2. Funding for Indigenous Communities.
Indigenous communities have been promised an additional $3.4-billion over the next five years. Most of these funds is allocated for infrastructure and health.  Of it, $300-million will build housing in the northern territories, $225-million will provide affordable housing for Indigenous people not living on reserve; and $828.2-million will improve medical outcomes.  New money is earmarked for child care, postsecondary education, employment initiatives, language and culture preservation, alternative sentencing, rehabilitation of Indigenous offenders, environmental fisheries, help for urban aboriginals, land-claims settlement, and meeting the oversight recommendations of the Truth and Reconciliation Commission.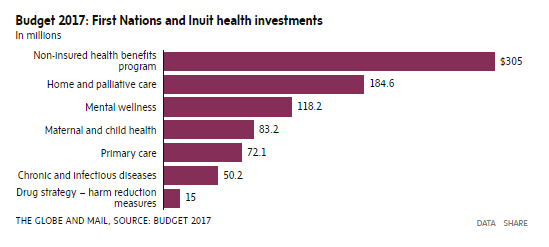 3. A commitment to study the housing market.
To help Canadians deal with soaring housing prices (see chart, below) the budget provides funding to establish a Housing Statistics Framework – a national database of all properties in Canada, their purchases and sales, degree of foreign ownership and information on demographics.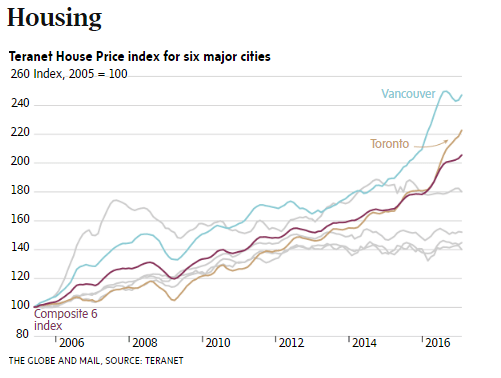 4. Canada Savings Bonds can't be part of your retirement savings plan.
Canada Savings Bonds (CSBs) are being eliminated. New sales of the bonds will be discontinued this year and the program will gradually be phased out.  "If you have CSBs, you'll eventually have to transfer their value somewhere else, such as a registered account or a savings account", says Educators Financial Planner Lisa Raponi, CFP. "You can also cash your bonds without penalty any time."
Tip: Know how transferring your CSBs to a registered account can affect your savings plan. Speak to an Educators Financial Advisor today.
Do you have questions about how the federal budget will affect your finances? Speak to an Educators Financial Advisor at any time.  Contact us today.
Source:
www.theglobeandmail.com/news/politics/2017-federal-budget-highlights-breakdown/article34380231/