The Learning Centre:
The growth of sustainable investing: is it a blip, or is it the future?
(Reading time: 3:15) 
We all experienced unexpected changes during the pandemic.
Certainly, the education community had more than its fair share. The other institution that saw a lot of surprises? The stock market. For some investors, one of the surprises in 2020 was the surge in "sustainable investing" – which not only continued its growth in recent years, but exceeded it.
As more and more investors know these days, the term "sustainable investing" is used to define investments that aim to help the environment and promote social good. Two of the investment styles that achieve this are Environmental, Social and Corporate Governance (ESG), and Socially Responsible Investing (SRI).
One source defines these as follows: ESG looks at the company's environmental, social and governance practices, alongside more traditional financial measures. SRI involves actively removing or choosing investments based on specific ethical guidelines.
A banner year in North America.
Sale of ESG funds in Canada reached $2.2 billion in 2020, which was its fastest-growing year on record1. And in a U.S mutual fund industry study, fund-rating agency Morningstar remarked that "4 times more sustainable funds finished in the best quartile than in the worst quartile of their categories during the first quarter."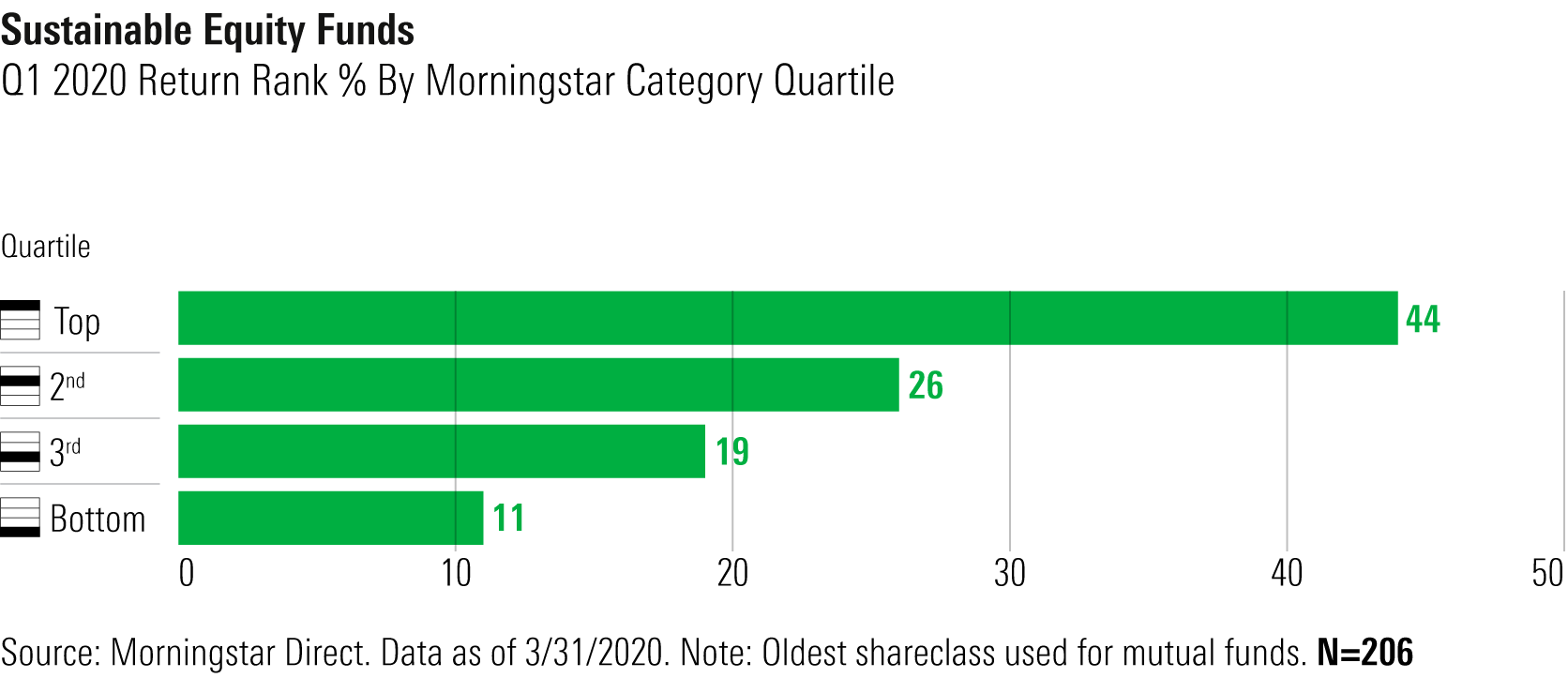 Although the best year yet, 2020 was the continuation of a trend.
Franc Oliveri, Certified Financial Planner professional, says, "While last year's growth in sustainable investing has some investors talking, 2020's success could be seen as a logical continuation of the growth in investor interest and the category's performance in recent years.
Read more: SRI does not mean lower returns than other forms of investing
A Morningstar report found that 745 sustainable funds delivered higher returns over the past 10 years when compared to a group of equivalent conventional funds3.  Morningstar has also reported that the amount of U.S. companies that listed ESG as a consideration in their investment process rose from less than 100 in 2018, to almost 500 by the end of 2019.
The chart below illustrates how, led by Europe, total assets in sustainable investing doubled from 2012 to 20192.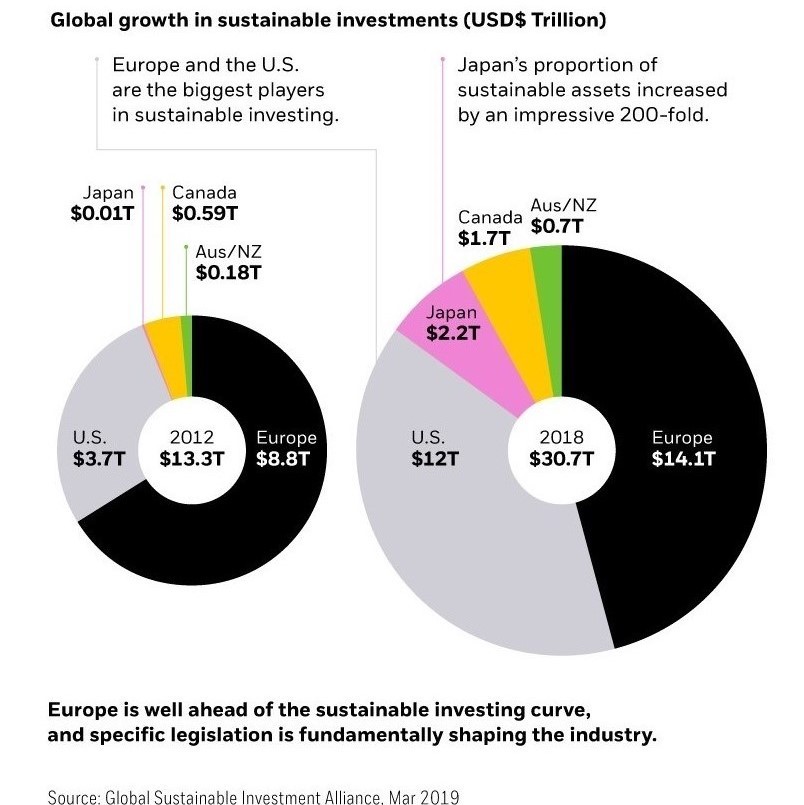 What was special about 2020?
The surge in ESG in 2020 was caused by several things, one being the type of investments that are typically classified as ESG. On the one hand, there aren't a lot of energy investments that are designated ESG, so ESG wasn't negatively affected by the cut in oil prices and the volatility in the energy sector. And on the other hand, a lot of ESG funds hold tech investments – which did very well during the pandemic.
Another contributing condition is regulations around how companies disclose how they apply ESG, and the timing around these regulations. In Europe, asset managers have been incorporating ESG practices to meet regulatory initiatives for more than a decade. In March 2021, a regulation on sustainability‐related disclosures in the financial services sector (the SFDR) came into effect for the EU. The SFDR tries to ensure that asset managers, financial advisors, and other financial market participants take into account sustainability and ESG factors in their decision-making around investments and in the information provided about those investments. North American practices are following suit.
Franc says, "The growth is also prompted by demand. Investors, particularly Millennials, are increasingly 'putting their money where their mouth is' and showing their values through the products they purchase, the organizations they work for, or their investment portfolios."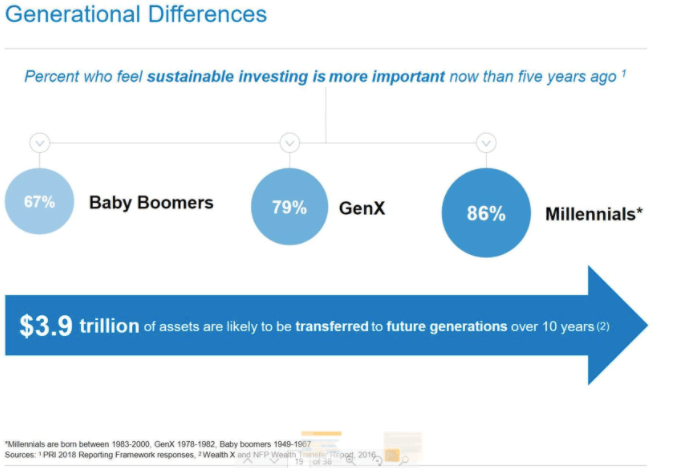 This investor attitude is increasing companies' willingness to adopt ESG practices and take public stands on issues once considered too controversial. Why? 8.3 million Millennials in Canada and 80 million in the U.S. represent buying power and influence too great for companies to resist.
A blip? Or an ongoing trend?
2020 featured unusually impactful events that piqued interest in sustainable investing on the part of both the general public and investors.  The relationship between climate change, COVID-19, and future diseases was brought to the forefront during the pandemic; and social inequality was in the spotlight due to incidents in the U.S. and elsewhere. Although it's unknown whether these issues will continue to be the most dominant in the public – and investors' – minds, it's probable that their influence will add to the motivation that investors and companies already have.
Increased investor interest will result in the development of more ESG/sustainable labels to channel investments into assets with high ESG values. Investors will expect companies to be more transparent in how they integrate ESG qualities into their operations. Technology will evolve that will allow investors to make more informed decisions.
Net/net?
"It's clear that sustainable investing is no longer a niche, but a global trend that's here to stay," says Franc.
Looking to make the switch to sustainable investing?
Educators Financial Group offers ESG investments, and our fund managers are all UNPRI signatories and follow ESG practices. If you still have questions about sustainable investing and its role in your portfolio, speak to one of our Financial Advisors anytime by calling 1.800.263.9541.
Sources:
1 https://www.morningstar.com/articles/972475/sustainable-equity-funds-are-outperforming-in-bear-market
2 https://www.visualcapitalist.com/rise-of-sustainable-investing/
3 https://www.thestar.com/business/opinion/2020/12/05/socially-responsible-investing-is-more-important-than-ever.html
https://www.cnbc.com/2021/02/11/sustainable-investment-funds-more-than-doubled-in-2020-.html
https://www.fool.com/investing/stock-market/types-of-stocks/esg-investing/
https://www.cambridgetrust.com/insights/investing-economy/investors%E2%80%99-interest-in-sustainable-funds-continues
https://www.refinitiv.com/perspectives/future-of-investing-trading/top-6-esg-investing-trends-in-2021/
https://www.morningstar.com/articles/976361/sustainable-funds-weather-the-first-quarter-better-than-conventional-funds